https://docs.google.com/document/d/1eHhS6zb_7jcXYaWRuKADf_CIpvs57Usbky-EGb0VGAs/edit?usp=sharing
How to build custom keyboard
A right keyboard could last your entire lifetime; however, finding that keyboard is another matter entirely. There are thousands of kinds of keyboards on the market with their own pros and cons. For instance, membrane keyboards, one of the most common keyboards, are good at resisting dirt and liquids but there is no tactile feedback to the user. Trying them all seems a waste of time and money. Therefore, building a custom keyboard becomes a better way to find your endgame keyboard.
Components of a keyboard
First of all, let's take a look at the necessary components of a keyboard. From bottom to top, a keyboard has 3 parts
1. keyboard base
2. switches
3. keycaps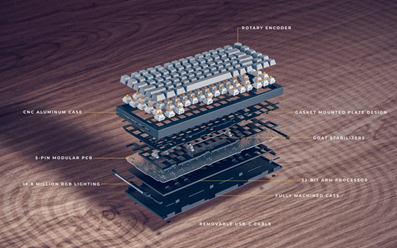 Switches and keycaps are relatively simple. On the other hand, a keyboard base has multiple layers including case, plate, circuit board (PCB) and stabilizers.
Pick PCB, case, mounting plate and cables.
The keyboard base is composed of 4 layers which means it is highly customizable.
The first and most important layer is the PCB as it determines the size and features. Although the most common sizes are 75%, TKL and Full-Sized, there are still a lot of other choices on the market.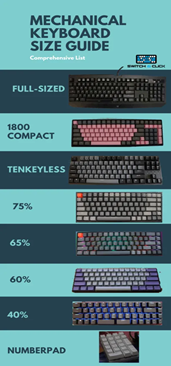 Based on the PCB size, we can start to pick cases. The cases are often made of Plastic, Aluminum, Acrylic, Brass, or Polycarbonate Material. We can choose different case materials depending on 3 aspects : durable, aesthetic, or see-through.
Plate is an optional layer. However, we recommend installing it because it helps hold everything together and improves the build durability. There are different material types but they don't affect the plate quality too much. Therefore, we can pick anything we want.
The Stabilizers are the most complex component. Also, there are a ton of different mounting styles and options for them. Fortunately, there are a lot of plates that have them installed. If you want to build them on yourself, we recommend this link for more details.
Although, cables are not one of the components. But we believe it is also worth mentioning. Because of the different case structures, some of the cases need special cable in order to connect to computers.
Identify different kinds of switches
Tutorial Video:
Pick keycaps
Keycaps are also essential to us because they set the aesthetic for the keyboard. The most common keycaps on the market are either made of ABS or PBT. There are no obvious advantages between them so you should decide which is best for you.
| | |
| --- | --- |
| PBT | Expensive, Durable,Matte,Textured |
| ABS | Cheap,Smooth,Quieter,Shiny |
Assemble components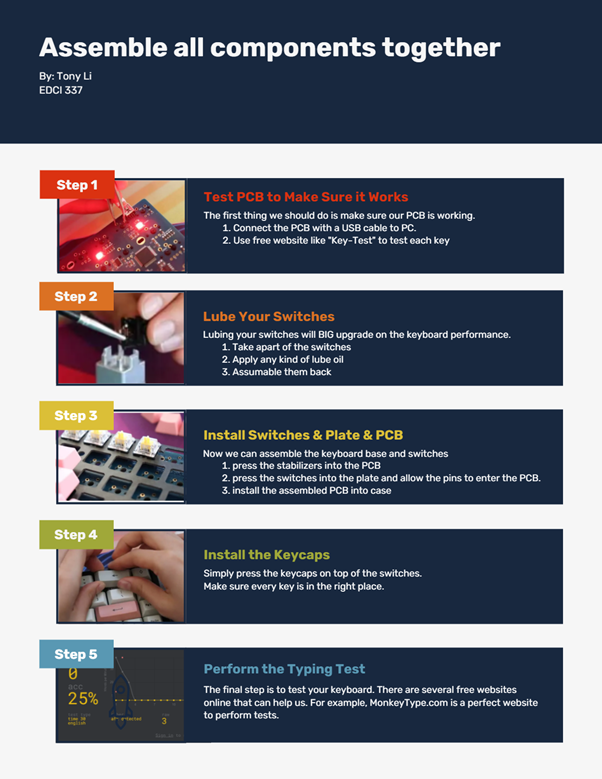 The Modality Principle:
We presented words as speech rather than on-screen text during the video so that learners will learn better when new information is explained by audio narration than on-screen text.
The Multimedia Principle:
The tutorial video contains text and pictures so that students learn and understand better with the materials.
The Voice Principle:
We used human voice recording in the tutorial video so it is easier for students to hear and comprehend.
The Segmenting Principle:
The video itself follows the Segmenting Principle since students can learn at their own pace by pausing the video at any time.
The Signaling Principle:
We used bullet points to list the components.
Also we used hyperlink to a mini website so that learners can explore more knowledge.
Highlight the important parts of the text helps learns to focous.
The Redundancy Principle:
We used short/ clear text and graphs in our infographic.